Melting Sweet Tales
Jenny's View
Dear Friends,
We've given so much coverage to our artist and architect friends at La Fonda, it seems high time to pay tribute to a resident master of the smaller scale. Gil Mesa has been our Purchasing Manager for 24 years, but he's also been an artist and craftsman all his life, so it was natural for him to train as an ice carver under former chef Maurice Zeck. By 1994, Gil was doing all the carving for our banquets, buffets, and for galleries and casinos around town.
Gil Mesa at Work
He told me that ice carving has declined in Santa Fe because of the high cost of block ice: From $20 for a 300-pound block when he started, to nearly $150 today. Restaurant suppliers are selling ice molds instead, but artisanal carving is a legacy from our Fred Harvey days, and worth the cost. Gil told me he learned the hard way that the carving has to be really exaggerated, so the sculpture will look just right after an hour or two of melting. The more complicated designs he does in two sessions, stashing the work in a walk-in freezer to harden up so he can get those crisp edges. His Santa designs, vases, and swans are still looking good after a six-hour buffet!
| Holiday Buffet Carvings | Thanksgiving Buffet |
| --- | --- |
Building the gingerbread house is even more of an undertaking. After the chef and sous-chef cut out the pieces of gingerbread sheets, Gil gets to work putting icing on the gingerbread pieces while they're flat—another trick he learned the hard way. After assembly, the team spends several more hours crafting ice-cream cone trees, adding LED lights for the farolitos, and finishing it with stiff royal icing before wheeling the masterpiece out to the lobby to "go crazy" adding candy and canes.
| La Fonda Gingerbread Hotel | All the Fixin's |
| --- | --- |
I asked Gil where he learned his decorating skill, and his answer should serve as a lesson about the value of picking up any skill you can. As a teen, he worked at a company that made faux stained glass for casino and restaurant décor, applying the piping on the "lead" design with a pastry bag. Many years later, when Chef was looking for help with the gingerbread house, Gil said "Piece of cake!"
Seriously, he really said that. To me at least.
Sweetest of holidays to y'all,
Jennifer Lea Kimball
Detours at La Fonda
Looking for something special for the young or young at heart? We carry a wide selection of gifts that is sure to suit everyone on your list. Home wares range from traditional to contemporary and include luxurious scented candles, holiday decorations, Pendleton blankets, and hand-woven textiles from Guatemala, as well as contemporary cotton throws for all ages. For the table we have pewter accessories and table linens, Mimbreno dinnerware celebrating La Fonda's history as a Harvey House, and folk art treasures from near and far. Stay warm with a cozy ruana (poncho), shawl, scarf, hat, mittens or gloves, handmade in Peru and from Pendleton.
| Peruvian Scarves | Happy Habitat Throws |
| --- | --- |
Unique treasures from more than 25 New Mexico artists include paintings, photography, jewelry, greeting cards, glass, chocolate, spirits, candles, birdhouses, holiday ornaments, and our own reproductions of "Harvey," Mary Elizabeth Jane Colter's bronze rabbit, as well as the recently unveiled "Burro" that graced the lobby in the 1920s.
| 'Harvey' | Mary Elizabeth Jane Colter's Burro |
| --- | --- |
We will have a jewelry trader joining us in Detours from 1 to 5 p.m. on Dec. 21-22 and 28-29. Sierra Lusk will bring a special selection of vintage jewelry from Fred Harvey days, plus a curated cache of Navajo and Pueblo pieces from her years of collecting. Sierra also represents Buffalo, a local artisan who works in ingot silver, hand forging and finishing pieces with stamps he has made himself.
Grab a friend and come shop with Harvey!
| Sandy Vaillancourt | Buffalo |
| --- | --- |
Recipe For Adventure
Cream of Roasted Cauliflower

- Yields 1 Gallon
Cauliflower. Plain, simple, and on its own, rather unimaginative. But roasted? Until the edges get all browned and caramelized? Totally different story. Roasted cauliflower becomes nutty and buttery, but without any nuts or butter. Then Chef Lane turns it into an amazing soup to warm your belly on a cold day.
INGREDIENTS

2 ounces whole butter

2 ounces olive oil

8 ounces white onion, small diced

2 pounds cauliflower florets

3/4 pounds Idaho potatoes, peeled, medium diced

3/4 pounds carrots, peeled, medium diced

4 ounces cream sherry

½ gallon chicken stock, hot

16 ounces heavy cream, hot

Pinch nutmeg

Kosher salt and white pepper to taste

Method

Heat oven to 450°, toss florets and onions with olive oil, season with salt and pepper, add to hot oven and roast until golden brown and delicious, remove and cool down. Reserve a small floret for garnish.
In a 2 gallon pot, heat the butter and add the potatoes and carrots, cook until there is a little color starting on the carrots.
Add the cauliflower and onions to this and stir, now add the chicken stock and bring to boil.
Heat the heavy cream until hot, watch carefully to avoid curdling.
Puree chicken stock/vegetable mixture blender with heavy cream and sherry.
Add back to pot and season with salt, pepper and nutmeg and top with small roasted florets.
Live at La Fonda
If you love the sound of Andean flute (pan pipes), which many people associate with street musicians, you're in for a treat. Mario Reynolds brings a polished professional sound to his sweet Andean ballads, accompanying himself on pipes as he plays the guitar.
Originally from Cochabamba, Bolivia—birthplace of the Andean love ballad—Mario Reynolds got his start in Santa Fe playing pan pipes on the streets. In the two decades since, he has made a life for himself in the high deserts of North America as a music teacher and performer, recording multiple CDs. We were introduced to him at La Fonda when he played La Plazuela and the Bell Tower, where his instrumentals made the perfect finish to an evening in Santa Fe.
| Mario Reynolds | Mario Reynolds |
| --- | --- |
Now playing at La Fiesta Lounge Dec. 17, Reynolds says he will include both traditional folk music and more contemporary Latin sounds in his mix. Elsewhere, with his Trio Latino, he plays everything from boleros to rancheros, accompanied by accordion and vocals, so his solo act has become a fusion of familiar and exotic sounds. "It's very beautiful," he said simply of the relatively new experience of playing at La Fiesta Lounge. Audiences "really appreciate the music." Mario will be playing at La Fonda on December 17. Look for other future dates on our monthly calendar.
It's a Good Time To...
Brave the chill and experience clear winter nights in the high desert. Whether it's admiring holiday lights, joining thousands on the Canyon Road farolito walk, or seeing your first Las Posadas, our sunny afternoons capped by aromatic piñon fires should inspire you to head outdoors in December!
You don't need to go far to see how Santa Fe does holiday lights. The Plaza lights up every night through the holidays, a display that continues through much of downtown, Canyon Road, Acequia Madre, and nearby east side streets. Join the crowd in welcoming Santa during Christmas at the Palace of the Governors (Dec. 8), and the Christ child at Las Posadas (Dec. 10). Stick around for the String of Lights Holiday Market, with 50-plus local makers.
| Santa Fe Lighting of the Holiday Tree | String of Lights Holiday Market |
| --- | --- |
Santa Fe Botanical Garden has a dazzling holiday light-up called Glow , which is sponsored by La Fonda, that features music, refreshments, gift shopping, and a laser light show, nightly from Dec. 16. It all culminates on New Year's Eve with activities geared toward children, when the "ball drops" at 7 p.m.
The Santa Fe Jewish Center hosts Chanukah on the Plaza, with menorah lighting, latkes, acrobats and dancing (Dec. 25), or celebrate on ice skates at the Genoveva Chavez Community Center (Dec. 27). A new tradition, New Year's Eve on the Plaza promises an alcohol-free celebration with music, chocolate and cookies, bonfires, and a countdown with the mayor ending in fireworks (Dec. 31).
| Santa Fe Botanical Gardens "Glow" | Chanukah on the Plaza |
| --- | --- |
Shops at La Fonda
Count down to the holidays.
La Fonda Gift Cards
No time to shop? Out of ideas? Give the gift of La Fonda. We are now offering gift cards that can be used for anything from a Staycation weekend to margaritas at the Bell Tower to any one of our fabulous gifts in Detours, our gift shop. The cards have no expiration date and can be reloaded, if desired. To purchase a card, call Annette Sedillo at 505-995-2301.
Cheers to all our customers who have walked in our shoes and boots! We'd like to show our appreciation by giving you a FREE pair of Hue socks with any boot purchase the month of December when you show us this e-blast. Our store is brimming with an inviting collection of gloves, scarves, wraps and footwear for holiday dress-up and gift giving. Want to let your favorite person choose something for themselves? Consider a gift certificate from Street Feet!
Congratulations to Karen from Decatur, TX – she won a beautiful Amethyst cluster in November's drawing by Mama's Minerals. Through December 31, 2017, click the link below and you could win this pair of Natural Agate Bookends! Visit Mama's Minerals and Gaea in La Fonda Hotel for more unique pieces from Mother Earth.
CLICK HERE TO ENTER
Natural Agate Bookends
Stop in Photogenesis and view their beautiful black and white photography. "March Madness" was taken in March of 2014 and was titled as such because Nicholas is a basketball fan. So far this Fall, we have not seen any snow in Santa Fe, but the skiers are anxiously awaiting. Mention La Fonda's newsletter and receive a 10% discount.
March Madness by Nicholas Trofimuk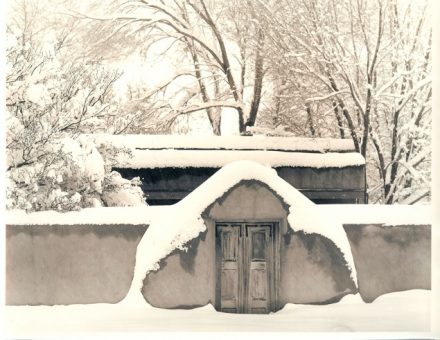 Limited Silver Gelatin Print
Tom Taylor's world renowned collection of distinctive belts, buckles, bags, and accessories are handcrafted in the USA and features prominent local New Mexico silversmiths and leather artists. Visit TomTaylor online or stop into their La Fonda store to subscribe to their newsletter and to learn about all their holiday specials. Don't miss out on this great opportunity to find the perfect one-of-a-kind gift for everyone on your list.
| Australian Crocodile Belt | Red Fringe Bag | Ropestar Belt |
| --- | --- | --- |
Out & About
If you're hankering after that only-in-Santa-Fe gift, the Winter Indian Market is a good place to start, since it takes place inside La Fonda (Dec. 16-17). At the New Mexico History Museum, the children and grandchildren of the Palace of Governors Portal artists show and sell their stuff at the Young Native Artists Winter Show (Dec. 2), while our neighbors at the Institute for American Indian Arts hold their 11th annual Holiday Art Market on Dec. 9, the same day as the Santa Fe Community College holiday craft fair. And, don't forget to stop into Detours, La Fonda's gift shop, for many exciting holiday gifts for you, your friends and your family.
| Winter Indian Market | IAIA Holiday Art Market |
| --- | --- |
Mark your calendars for the 24th annual Souper Bowl at the Santa Fe Convention Center, where our own Chef Lane is sure to impress in a slurp-off of soups for charity (Jan. 27).
Souper Bowl
And, don't forget to follow La Fonda's Artist in Residence every weekend December through February. If you are in need of a Staycation, come stay with us on one of the Artist-in-Residence weekends and take advantage of the special rates at La Fonda. Or just stop in from 4pm to 7pm, Thursday through Saturday, through February 28th.
Mateo Romero - Artist in Residence
Music
Choral music reigns at this time of year, and Santa Fe has no shortage of inspiring venues to drink it in. Local musicians Jerry and Lenny Lopez host a Mariachi Christmas at the Lensic (Dec. 1), followed by the New Mexico Gay Men's Chorus in a Lensic debut (Dec. 8), and the Santa Fe Concert Band's free holiday family concert of traditional favorites (Dec. 11). Santa Fe Desert Chorale performs its concert "Home for the Holidays" at Cristo Rey Church (Dec. 16) and at the Cathedral Basilica (Dec. 20-23), while Santa Fe Pro Musica presents its annual Baroque Christmas of concert of arias, Baroque instrumental music, and traditional carols at Loretto Chapel (two shows nightly, Dec. 20-24). Last but not least, the Santa Fe Women's Ensemble performs its "Songs of Peace" at Loretto Chapel (Dec. 8, 9, 13, 14) and the Immaculate Heart of Mary Chapel (Dec. 16).
| NM Gay Men's Choir | Desert Chorale |
| --- | --- |
The Santa Fe Symphony offers its concert of instrumental Christmas Treasures (Dec. 10), while Performance Santa Fe owns Christmas Eve, with pianist Joyce Yang playing Rachmaninoff and Dvorak (two shows Dec. 24), and New Year's Eve, with Grammy-winning violinist Augustin Hadelich playing Mendelssohn and Beethoven (two shows Dec. 31).
Classical music continues strong in the new year, with the Santa Fe Symphony's concert of Brahms, Grieg, and Liszt (Jan. 21), and Santa Fe Pro Musica offering violinist Benjamin Beilman playing De Falla, Copland, Stern, and Bernstein under the rubric "Love, the Magician" (Dec. 29). Pianist Conrad Tao follows with "Visionaries," dark-hued showpieces from Mozart, Schumann, and Joan Tower (Jan. 27-28). Award-winning American soprano Angela Meade performs at the St. Francis Auditorium (Jan. 14), and the New Mexico Performing Arts Society promises to chase away the doldrums with its first annual "Winter Blues" concert at Immaculate Heart of Mary Chapel (Jan. 21). Conductor Joe Illick also promises to entertain with his performance talks on Beethoven (Dec. 17) and on Bach (Jan. 9) at the United Church of Santa Fe.
| Conrad Tao | Benjamin Beilman | Angela Meade |
| --- | --- | --- |
In modern music, Ralph Covert plays a concert for the young and young at heart at the Lensic (Dec. 3), followed by early American jazz band The Hot Sardines (Dec. 6) and Marty Stuart and his Fabulous Superlatives (Jan. 20). Tony Furtado plays Gig Performance Space (Dec. 7), while Meow Wolf hosts Giraffage (Dec. 1), The Drums (Dec. 11), Prayers (Dec. 15), Soul Clap (Dec. 16), the gathering of bands known as Sounds Like Primal (Dec. 22) and Jessica Lea Mayfield (Jan. 22).
| Marty Stuart and his Fabulous Superlatives | Soul Clap |
| --- | --- |
Film & Performance
A holiday tradition, Aspen Santa Fe Ballet performs its unique twist on The Nutcracker with a cast of 60 (four shows, Dec. 16-17). In the new year, the company hosts the all-male parody troupe Les Ballets Trockadero de Monte Carlo (Jan. 23).
The Santa Fe Opera is hosting a couple of winter programs: Shoes for the Santo Niño, a one-act opera commissioned by the University of New Mexico to tell the traditional tale of the Santo Niño de Atocha, to be performed at the Cathedral Basilica (Dec. 7-8). The opera is also offering a free one-hour program on its Winter Tour, with mezzo-soprano Sarah Coit and baritone Jorge Espino performing (Dec. 15).
| Aspen Santa Fe Ballet | Les Ballets Trockadero de Monte Carlo | Shoes for the Santo Niño |
| --- | --- | --- |
On screen at the Lensic, Victorian Era costumes are encouraged for a free peek at the first new episode of Masterpiece's Victoria (Dec. 5), while National Theatre Live in HD broadcasts a new comedy, The Young Marx, live from the Bridge Theatre in London (Dec. 20). The Opera House, a new film by award-winning documentary filmmaker Susan Froemke, tells the story of the New York Metropolitan (Jan. 20), whose operas have a loyal Live in HD fan base in the City Different.
| Victoria | Susan Froemke |
| --- | --- |
Finally, SITE Santa Fe continues its series of films by Lynn Hershman Leeson, one of the artists in its exhibition Future Shock: Teknolust, with Tilda Swinton playing four parts (Dec. 28), and the sci-fi Conceiving Ada (Jan. 11), followed by First Person Plural, a video confessional of Hershman Leeson herself in four segments (Jan. 25).
| Future Shock: Teknolust | Conceiving Ada |
| --- | --- |
At the Museums
At the Museum of International Folk Art, Crafting Memory takes a fresh look at contemporary Peruvian folk art, opening Dec. 3 with a reception and live music. The Museum of Indian Arts & Culture is opening Lifeways of the Southern Athabaskans (Dec. 10), made up of objects from the late 1880s that represent different Apachean groups in the Southwest, including the Jicarilla, Mescalero, Fort Sill (Chiricahua), San Carlos, and White Mountain Apache. And the Georgia O'Keeffe Museum opens Journey to Center, an exhibition of watercolors by Sam Scott (Dec. 1), uncharacteristically small landscapes of the same high desert terrain painted by O'Keeffe.
Crafting Memory
Meanwhile, you can join the New Mexico Museum of Art for its annual holiday open house, with puppet plays, art-making projects, photos with Santa, and more (Dec. 17). Opera lovers might want to listen in as Angela Meade, "the most talked-about soprano of our generation" (who performs in the St. Francis Auditorium the previous evening), teaches a master class of invited opera singers (Jan. 15).
The Santa Fe Children's Museum celebrates the Winter Solstice around a labyrinth made of farolitos, with African drumming, roasted marshmallows and hot chocolate (Dec. 17).
| Angela Meade | Winter Solstice |
| --- | --- |
At the New Mexico History Museum, scheduled lectures include "Frère Arsène Brouard: New Mexico's Forgotten Botanist" (Dec. 6), "Counterculture: The Rise of Permaculture," with Roxanne Swentzell (Dec. 9), and "La Academia de la Nueva Raza," with Enrique Lamadrid (Jan. 13). The monthly family workshop explores string theory (Dec. 17).
| Counterculture: The Rise of Permaculture | Enrique Lamadrid |
| --- | --- |
The Santa Fe Botanical Gardens has a number of holiday-themed workshops in December: How to beautifully wrap your Christmas presents (Dec. 2), making Santa Fe Christmas cards (Dec. 5), and making holiday gift tags (Dec. 14). You can drop in to the Georgia O'Keeffe Museum to make personalized holiday crafts for all ages during the free holiday family program (Dec. 28).
Beautiful Present Wrapping
Speakers
Author Gabriella Coleman speaks at the James A. Little Theater about the group Anonymous and how it has dodged the cyberterrorism label (Jan. 25), the topic of an informal salon discussion at the School for Advanced Social Research (Jan. 26).
The Lannan Foundation speaker series presents author Nomi Prins with Juliet Schor speaking on economic issues (Jan. 24), followed by novelist Colum McCann with actor Gabriel Byrne (Jan. 31) in what is sure to be a sold-out encounter.
Author Arden Reed discusses his book Slow Art: the Experience of Looking, Sacred Images to James Turrell, and how to bring artworks to life in an age of instant everything, at SITE Santa Fe (Dec. 20). Reed returns to engage in a book club discussion on Jan. 9.
| Anonymous | Nomi Prins | Arden Reed |
| --- | --- | --- |
La Fonda and Santa Fe In the News
Condé Nast Traveler - "Top Hotels in the Southwest and West: Readers Choice Awards 2017 READ NOW

NM Hospitality Association Congratulations to La Fonda's Carlos Dominguez, Maintenance Engineer, named Back-of-House Hospitality Employee of the Year and La Fonda's Gabe Martinez, Evening Manager, named Front-of-House Food & Beverage Employee of the Year the Top HAT Awards! READ MORE

Livability.com - Santa Fe Unveils 'Margarita Trail' – Here's Where to Stop and Sip READ NOW

DeluxePad Private Jet Magazine – "Luxurious Road Tripping; America's alabaster cities revisited" READ NOW

Condé Nast Traveler - "Why You Should Travel to Santa Fe Now." READ NOW

Perfect Wedding Guide "Relax with a Spa Date Before you Say "I Do". READ NOW