Adventurous Santa Fe Activities
Golfing, Skiing, Horseback Riding, Hiking, and More
Take advantage of the fun Santa Fe activities near La Fonda perfect for any season, from skiing at Ski Santa Fe to fishing in the Upper Mountains. Learn more below to start your adventure.

Meow Wolf - The House of Eternal Return
Is a unique art experience featuring an astonishing new form of non-linear storytelling that unfolds through exploration, discovery and 21st century interactivity. Few words can really describe the experience that is a nexus of colorful, chaotic portals that take explorers to worlds they've only seen in their wildest dreams.
Biking
Biking in Santa Fe can be rugged and wild or a leisurely ride on a quiet, paved road. Taking to the trails on two wheels is a wonderful way to enjoy the state's numerous national and state parks and forests. For more information visit the New Mexico Department of Tourism Activities and Outdoor Recreation or the National Park Service, 505-988-6688.
Downhill Skiing, Snowboarding, and Cross-Country Skiing
Santa Fe sits near the gorgeous foothills of the Sangre de Cristo Mountains and some of the nearby peaks are over 12,000 feet high. Local ski areas — Ski Santa Fe, Pajarito Mountain and Sandia Peak — often have snow pack in excess of 100 inches, so expect wonderful, world-class downhill skiing within a half-hour to an hour drive of La Fonda on the Plaza. Visit Ski Santa Fe, or call 505-982-4429. New Mexico has more than nine million acres of national forest, so cross-country skiers can take to the back country where snow is deep, the views spectacular and the solitude revitalizing. For details, visit Ski New Mexico.
Fishing
North of Santa Fe, in the upper mountains near Taos and Chama, there are pristine fly-fishing destinations. Local lakes are bountifully stocked with trout and freshwater salmon. The Pecos River, located near Santa Fe, is a well-known angler destination. Required fishing licenses are readily available. The concierge can assist with arrangements for guide service, equipment, instruction and licenses. For additional information,visit New Mexico Department of Tourism Activities and Outdoor Recreation or call New Mexico Game and Fish at 505-476-8000.
Golf
Public Courses
Santa Fe has great golfing in naturally beautiful surroundings; at least five public courses are an easy drive from La Fonda On the Plaza. Golfers who are unaccustomed to higher altitudes will be thrilled with their drives; the air is so thin that golf balls sail down the fairway at great distance.
• Marty Sanchez Links de Santa Fe Golf Complex Caja del Rio Road 505-955-4400
• Santa Fe Country Club Airport Rd. 505-471-0601
• Pueblo de Cochití Golf Course 5200 Cochití Hwy., Cochití Lake 505-465-2239
• Black Mesa Golf Club 115 State Road 399, La Mesilla, 505-747-8946
For more information on courses around the state, click here.
Private Clubs:
For our guests seeking a truly unparalleled golfing experience during their stay, special guest arrangements can be made for play on some of the finest golf courses in the country, 2 of which are located in Santa Fe. The Club at La Campanas, features two, 18-hole Jack Nicklaus Signature Golf courses. Both the Sunrise and the Sunset courses will leave you with an unparalleled golfing experience. Please contact Jessica at 505-995-2319 for more information about this unique opportunity and experience.
Hiking
Hiking trails are abundant for all levels of hikers — from easy trails to more rigorous climbs. For more information visit New Mexico Department of Tourism Activities & Outdoor Recreation or contact the USDA Forest Service, 505-438-5300. Check with our concierge for hiking maps.
Horseback Riding
La Fonda is the only hotel that has the privilege of being able to offer our guests access to the members-only, Equestrian Center at The Club at Las Campanas. The Club's Equestrian Center hosts trail rides that you may enjoy on one of many club-owned horses. Whether meandering down an arroyo or cresting a butte with mountain vistas in the distance, their trail rides can be customized, on and off-site, with access to 68,000 acres of open space and beyond. For assistance with this special experience, contact Jessica at extension 505-995-2319.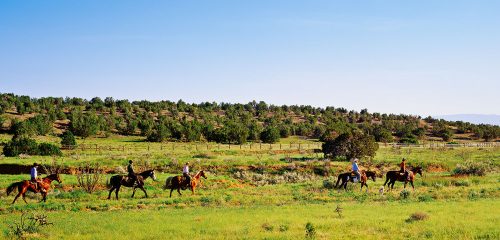 Within New Mexico are more than 4,000 miles of designated horse trails on public land such as national forests and state parks. For more information visit New Mexico Department of Tourism Activities & Outdoor Recreation or call the National Park Service at 505-988-6888. In and around Santa Fe several facilities offer guided trail tours on horseback, while others offer longer wilderness excursions. Tell us your expertise and expectations and we'll arrange the perfect ride. Children must be eight years old and at least 52 inches tall. Check with La Fonda's Concierge Desk for brochures or call 505-995-2333.
Kids - Hunting For Harvey Scavenger Hunt
On your scavenger hunt inside La Fonda, you will embark on a journey through history, art, culture and wonder. You will also receive a special kit to conduct your investigation through the hotel. See La Fonda Concierge for details or call Ext.4200.
Performing Arts
Santa Fe is a genuine feast for those who love live performances. Whether you're into opera, ballet or country music, the venues are as magical as the performances themselves. The intimate settings make seeing any show in Santa Fe a truly personal experience. CLICK HERE for more information.
Rafting, Canoeing, Kayaking
Snow melting off the mountains makes spring and summer rafting, canoeing and kayaking popular, with trips available from Santa Fe, Taos and Chama. From late spring until early fall, rafting along the Rio Grande north of Santa Fe is the perfect half or full-day adventure. We can book everything for you from easy floats to class 4 to 5 rapids through the famous Taos Box. Rafting opportunities range from calm to Class IV whitewater thrills on the Rio Grande and the Rio Chama rivers just north of Santa Fe. Check with La Fonda's Concierge Desk for brochures or visit New Mexico Department of Tourism Activities & Outdoor Recreation.
Other activities include: sailplane soaring among the clouds, early morning hot-air ballooning, boating in no-wake lakes, and rock climbing.