Come Home to Santa Fe!
Jenny's View
Dear Friends,
For many people, relaxation is a top vacation goal, followed by fun and romance. What could be more relaxing than kicking back in a place that's familiar? New Mexicans may remember Santa Fe once a month or year to run an errand, but when was the last time they truly enjoyed it as so many outsiders do? I'm guessing not often enough. Book a long weekend in a suite at La Fonda, and take in the theater, ballet, visit the museums—or if you're the active sort, hike in the mountains or along the river, or try a biking trail if you want to rent some wheels in town.
Best of all, there's no stress to a New Mexico "stay-cation." You don't have to stick to your actual backyard to enjoy the comforts of being virtually in your own backyard. No maps, foreign languages, airports, currency exchange, or worrying about your luggage. And since Santa Fe draws visitors from around the world, you get the flavor of internationalism delivered to your doorstep. You can mingle with travelers from other world-class cities, while being enough of an insider to be helpful. Many people down the highway in Albuquerque go decades without seeing comedy acts at the Lensic, rousing flamenco or foot-stomping honky tonk (not wanting to drive home late at night), and have yet to set foot in SITE Santa Fe or Meow Wolf, cutting-edge art spaces that rival New York or L.A. Even if you dine occasionally at one of our special-occasion restaurants, intriguing new ones pop up every year.
| | |
| --- | --- |
| | |
For couples looking to rekindle romance, Santa Fe provides a setting that's familiar enough to be comfortable while mysterious enough to introduce a touch of surprise—just the formula to relax and reconnect. Stroll in the Santa Fe Botanical Garden or on the edge of the mountain, float down the Rio Grande or above the city in a hot-air balloon, take a New Mexico cooking class or an art workshop, catch an eclectic film at the Jean Cocteau Theater or book a private tub at Ten Thousand Waves spa.
I am the first to admit that this all sounds so tempting and terribly out of reach! For, alas, I am one of the few persons who are not ever going to be able to kick back and relax at La Fonda.
Enviously yours,
Jennifer Lea Kimball
Detours at La Fonda: Special Event: May 13th, 12:00pm to 4:00pm
Cheryl Jamison Cookbook Signing & Santa Fe Spirits Tasting & David Manzanares on guitar
Dad's will be jealous this Mother's Day when you give mom a personalized, autographed copy of one of Cheryl Alters Jamison's award winning cookbooks! Cheryl and her husband, Bill Jamison, earned the James Beard Award on four occasions for their cookbooks and have sold over 2 million copies. With the passing of her husband last year, Cheryl has continued their dream of bringing excitement to your kitchen. Come visit Detours on May 13th, from 12:00pm to 4:00pm, when Cheryl will be in the store autographing a selection of her cookbooks as gifts for Mother's Day, Father's Day or for your own collection and sampling a few of her recipes. Santa Fe Spirits will also be on hand sampling their Slow-Burn Gin Liqueur during the book signing and David Manzanares will entertaining on guitar from 1:30 to 3:00pm. Stop on by for a taste and a nosh and a bit of music!
If you would like to order a personalized book and have it shipped to you, please visit DetoursatLaFonda.com to select your cookbook and call the store at 505-988-1404 to give us your personalized information for the autograph.
Recipe For Adventure
Spicy Rub for Pork Tenderloin Yields ½ Cup - This makes enough for about 3-4 pounds of meat.
BBQ season is here and Chef Lane loves to serve this spicy dry rub in La Plazuela. Sometimes he features wild boar with the rub, but if you don't happen to have a wild boar running around in your area of the country, then a store-bought pork tenderloin will work just fine for this recipe! This mixture of salt, pepper, spices, and sugar cures the meat before cooking and flavors it while it's on the fire, mingling with the juices to form an ambrosial crust. Kept away from heat and light, the dry rub will last up to six months.
INGREDIENTS

4 Tablespoons ancho chile powder

4 Tablespoons cumin

4 Tablespoons ground ginger

4 Tablespoons brown sugar

2 Tablespoons garlic powder

2 Tablespoons onion powder

1 teaspoon cayenne pepper

2 Tablespoons kosher salt

2 teaspoons black pepper
METHOD:
Combine all the dry ingredients in a bowl and mix well. Trim any remaining silverskin or excess fat from the tenderloins. Dry off the surface moisture. Place the tenderloins in a large bowl with the spice rub and coat them. Cover and let sit in the bowl, in the refrigerator, for at least three hours (preferably overnight). Grill each tenderloin about 15 minutes, flipping them halfway through the cooking time. Then let sit for five minutes before carving. Top with your favorite fruit salsa.
Live at La Fonda
Listeners do a double-take when they hear that The Boomroots Collective is a Santa Fe band. Described as "Jamaican funk with New Mexican soul," this loose-knit group of musicians puts a decidedly urban and island spin on bandleader Mark Ortiz's Northern New Mexico roots. "We're called a collective because we can take any musician and put them in the mix, and create music seamlessly," Ortiz says of The Boomroots' signature sound, which melds hip-hop and reggae dance hall while making room for pop, rock, R&B, and other influences depending on who joins the lineup. Regular members include Ortiz himself (aka Circumference 360) on lead vocals and rhythm guitar, Rama Kim Furst on lead guitar and vocals, Bob Witsenhausen (B-Dubz) on drums, John Simmons on bass, and Alberto Elias Zalma (Aezrock) on keys, melodica, ukulele and vocals. But no matter who's in the mix, the purpose remains the same: "to create feel-good music," which they've been doing in Santa Fe for seven years.Happily, the veteran entertainers play just about everything, from the standard country two-step that they shared on stage with Bill Hearne, to norteña, boleros, cumbias, and rock 'n' roll. With Joe Louie on drums and Ron DeShazo on keyboards, all three players lend their voices to whatever people request. "My motto is, if I've heard it, I can play it. And if I don't know it, then I'll fake it," Martinez laughs. "That keeps it interesting, so we don't get bored either." Check out the new sound in La Fiesta Lounge when The Boomtown Collective plays on June 21st & 22nd and back again on August 4th & 5th or, you can watch their videos at theboomroots.com
La Fiesta Lounge staff heard the band play an art gallery in town and immediately got interested. "They were looking for a new sound," Ortiz explains. A weeknight booking at La Fonda was received enthusiastically, especially by bar staff. "I think it's like a breath of fresh air," says Ortiz, "because everywhere you go in Santa Fe, it's the same type of music." While he grew up in a family with deep musical roots in Northern New Mexico, Ortiz pays homage to that tradition through the 21st-century sounds he grew up with. The intent, too, has a multicultural groove: "Behind the music and dancing, we have a positive message we're relating to people as well, and that's the fire that fuels us and what's given us longevity," he says. "Everyone is connected to that, because everyone wants to change the world. We're just doing our part."
Check out the new sound in La Fiesta Lounge when The Boomtown Collective plays on June 21st & 22nd and back again on August 4th & 5th or, you can watch their videos at theboomroots.com
It's a Good Time To...
Enjoy the sunny side of the year as spring winds die down, and festivals and fairs start filling the calendar. Whether it's feasting or fast cycling, there's good reason to head outside in May.
Bicyclists and beer drinkers (not a mutually exclusive crew) link elbows at the annual Outside Bike & Brew festival (May 18-21), which combines various road and mountain biking events with cyclists' favorite post-ride replenishment. Mention this offer or show your number at La Fiesta Lounge and get $1.00 off any beer and $2.00 off any margarita during the festival. The Santa Fe Century (May 21), which rolls along picturesque routes on the Turquoise Trail, unofficially opens the summer bike-touring calendar. The Big Mountain Enduro (May 27) is the trail-riding version. A well-loved tradition for another kind of rider is the Rodeo de Santa Fe (June 21-24), which draws champion cowboys and cowgirls in competition, along with other Western-style entertainment and a parade Saturday through downtown Santa Fe.
| | |
| --- | --- |
| Outside Bike and Brew | Rodeo de Santa Fe |
"Global art" is the theme that cultural organizations have adopted this year, beginning with the exhibition of masterpieces from the Museum del Prado in Madrid in full-scale mounted reproduction, free to see in Cathedral Park (May 1 through October). Also free is the Spring Art Festival, when Canyon Road throws open its many doors with continuous art demos and gallery receptions (May 12-13). And the landmark Mine Shaft Tavern in the Turquoise Trail community of Madrid holds its 10th annual Crawdaddy Blues Fest (May 20-21), with fresh crawfish, crab cakes, gumbo, BBQ, plus three stages of entertainment. In June, Santa Fe shows its rainbow colors at the annual Pride parade and festival (June 24).
| | |
| --- | --- |
| "The Parasol" Francisco de Goya - Prado Exhibit | Pride Parade |
Out & About
Mama's Minerals, located in the main entrance to La Fonda, is excited to introduce Gaea: A Collection of Natural Wonders, to the Santa Fe Plaza. Exquisite crystalline structures. Ancient life suspended in time. Genuine Himalayan salt lamps, stunning beads, jewelry, crystals, meteorites, minerals and fossils. Gaea is a trove of natural treasures for self and for home. Soft opening May 1, with a grand opening to follow in conjunction with sister store Laura Randolph Gallery. This new gallery will be a transformation of the current Mama's Minerals. 505-988-1651
| Gaea | Laura Randolph Gallery - Formerly Called Mama's Minerals |
| --- | --- |
Calling itself Santa Fe's "most spirited" festival, Cocktails & Culture celebrates the mixed drink and the foods to complement it (June 2-4), offering seminars, entertainment, and contests at venues around town. Leading up to it is Santa Fe Cocktail Week (May 26-June 2), which invites you to sample creations around town (make sure to start at La Fiesta Lounge with our spicy Paloma!) and vote for your favorites. Also, don't forget to get your tickets to the Margarita Trail Welcome Party, where Chef Lane will be serving braised short rib tacos and La Fiesta will be sampling a special margarita! The Lensic's annual wine-paired dinner lets you dine onstage to entertainment and a live auction (June 24), to benefit one of the city's top venues. Yet another opportunity to mix art, food, and fun happens when art galleries pair up with restaurants for the Edible Art Tour (June 9-10), benefitting art programs for New Mexico youth
| | |
| --- | --- |
| Cocktails & Culture | Wine-Paired Dinner at the Lensic |
Celebrate Farms, Films, Food at a free event with cooking demos, food trucks and samples, and free movie screenings at the Center for Contemporary Arts (May 17). For more fun with food, join author Ellen Zachos foraging for cocktail ingredients at the Santa Fe Botanical Garden (May 19), or on a lunchtime tour of the new Ethnobotanical Garden (May 20) as part of the Botany of a Feast educational program.
| Foraged Cocktails | | Ethnobotanical Garden |
| --- | --- | --- |
The annual Currents New Media festival (June 9-25) showcases platforms such as video, animation, installation, computer art, gaming, robotics, and other emerging art media for the 14th year. Another wide-ranging art umbrella is PhotoSummer, a collaborative exhibit and programs from the photography group Center that explore this year's theme of Art & Oppression. The event officially opens June 9 with a reception, and includes a full calendar of exhibits, workshops, and events in Santa Fe and Albuquerque through September. For a look at all kinds of New Mexican, Native, and Southwest fashion design, Santa Fe Fashion Week (June 8-10) puts on a Garden Fashion Show and Runway Fashion Show.
Take a short spring drive and check out some of the 90 artists in the nearby Eldorado Studio Tour (May 20-21). Or head south just past city limits to visit El Rancho de las Golondrinas living-history museum, which starts its season with the annual Spring and Fiber Fest (June 3-4), Herb & Lavender Festival (June 17-18), and Viva Mexico Fiesta (June 22-23). Learn the basics of watercolor botanical painting in a morning workshop from the Santa Fe Botanical Garden (May 16), or join a free xeriscaping workshop in Railyard Park (May 6). Fiber fanatics take note: The new two-day Fiber Crawl Tour across northern and central New Mexico targets knitters, weavers, spinners, and others interested in the state's textile traditions. The Scottish Rite Temple will hold an auction of birdhouses, bird baths and other bird art donated by local artists to benefit the homeless (June 4).
| Eldorado Studio Tour | Xeriscaping |
| --- | --- |
Music
Classical music season may be winding down, but the New Mexico Performing Art Society has a number of concerts on its calendar. New Mexico Bach Society holds a benefit concert for Santa Fe artist Richard Kurman (May 6) at the Immaculate Heart Chapel, along with an exhibit of his paintings. The Season Finale Opera Concert consists of music director Franz Vote's favorite scenes (he was a conductor at The Met), performed by the Bach Chorale (June 25). And students in the group's Santa Fe Flute Immersion master class present a free concert with major works for flute and piano, also at Immaculate Heart Chapel (June 4).
Harpsichordist Kathleen McIntosh performs Bach's Goldberg Variations for the Serenata of Santa Fe spring concert at First Presbyterian Church (May 7). The Santa Fe Symphony wraps up its 33rd season with a program of "bombastic" works from Beethoven, Mendelssohn and Lauridsen featuring the full orchestra and chorus (May 20-21). The symphony will also play a Memorial Day concert at the Cathedral Basilica, a program of patriotic favorites for pay-what-you-wish entrance (May 31). For those who long to make joyful sounds of their own, the second annual Santa Fe Sings! invites the vocally inclined to come sing selections from the choral cannon (May 13) at the United Church of Santa Fe.
| Bach in Spring | Gregory Porter | North Mississippi All-Stars |
| --- | --- | --- |
In contemporary music, Gregory Porter, the new king of vocal jazz, makes his first appearance in the City Different (June 10) at the Lensic. Celebrate Cinco de Mayo at La Fiesta Lounge with Savor and special discounts on Dos Equis, Paloma cocktails and tacos borrachos. The Bridge at Santa Fe Brewing also celebrates Cinco de Mayo with a lineup of Latin bands. Dog Days of Summer plays the same venue (June 4), followed by the North Mississippi Allstars (June 9). At Meow Wolf, there's Frank Iero and The Patience (May 5), DJ Jessica Philippe (May 6), La Santa Cecilia (May 10), the dance party known as Back to the '80s Prom (May 12), Com Truise with Roland Tings (May 13), Hoops (May 21), Pantha Du Prince (May 24), and Space Jesus (May 25). Next month's lineup begins with Bad Suns (June 2) and Hurray for the Riff Raff (June 6), followed by Machinedrum (June 16) with special lighting design as part of the Currents 2017 festival. St. John's College begins its free Music on the Hill series of summer concerts on the lawn on June 14, running every Wednesday at 6 p.m. in the college athletic field. Check for updates on the website about performers.
Performance
Have a laugh at the Bard's expense when the three-man comedy troupe Reduced Shakespeare Company weaves the whole canon together into "a tale told by idiots" (May 11) at the Lensic. The Santa Fe Playhouse is soliciting laughs for In the Next Room (Or the Vibrator Play), a comedy about marriage and electricity set in the 1880s (May 4-21). Its next run, The Normal Heart, deals with the 1990s AIDS crisis (June 8-25). Meanwhile, the Adobe Rose Theatre opens the Tony-nominated drama Time Stands Still by Donald Margulies (May 18). At the Lensic, Jessica Lang Dance introduces work from the New York choreographer (May 23), while a decidedly different type of dance comes to The Lodge with the Zircus Erotique burlesque show starring Marlo Marquise (May 6).
| Reduced Shakespeare Company | Jessica Lang Dance | Peter Pan |
| --- | --- | --- |
National Theatre Live in HD presents Obsession starring Jude Law, broadcast live from the Barbican Theatre in London (May 12), followed by James Macdonald's critically acclaimed production of the landmark Who's Afraid of Virginia Woolf, broadcast live from the Harold Pinter Theatre (June 3), and Peter Pan (June 11). Also broadcasting at the Lensic, Met Live in HD presents Strauss' Der Rosenkavalier in one marathon performance starring Renee Fleming in one of her signature roles (May 13). And Lifesongs Concerts presents This Deeper Love, the culmination of a project that unites older artists, youth, hospice patients, and community members to create and star in their own performance (May 7). If you're a fan of youth performance, the New Mexico School for the Arts presents its annual year-end show at the Lensic (May 18-19), with a gala event on Friday. And the School of Aspen Santa Fe Ballet has its Spring Recitals featuring 100 young dancers and faculty (three shows, May 27-28).
At the Museums
The Museum of Spanish Colonial Art opens Mirror, Mirror, a national exhibit of 50 photographs of Frida Kahlo (May 6), many taken by iconic portrait photographers, along with works done in homage by Spanish Market artists (through Oct. 29). La Fonda is offering a Frida Kahlo special package that includes admission to this fabulous exhibit. The New Mexico Museum of Art opens Lines of Thought: Drawing from Michelangelo to Now, an internationally recognized lineup of artists from the collection of the British Museum, opening May 26 (through Sept. 17).
Gather treasures from around the world at the Museum of International Folk Art's annual Folk Art Flea (May 6), selling gently used folk art from around the world, including a Collector's Corner this year for more-than-flea items. Top-quality Native art will be offered at the Native Treasures Indian Arts Festival (May 26-28), which presents for sale the work of 200-plus invited artists to benefit the Museum of Indian Arts and Culture.
The New Mexico Museum of Art celebrates its centennial this year, and will honor its St. Francis Auditorium with a series of events, starting with "Sombras del Pais," a lecture-performance tribute to 1930s New Mexico folk musicians Felipe Delgado and Anna Maude Van Hoose. The museum will be hosting a field trip with guided studio tour, focusing on Albuquerque at the repurposed Sanitary Tortilla Factory, which has been converted to art studios (May 20).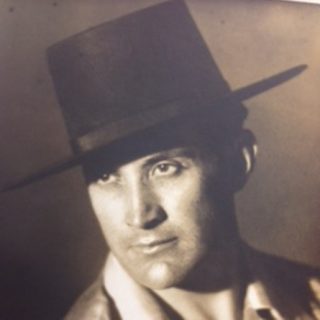 New Mexico's status as a magnet for hippies goes into the record books as the New Mexico History Museum opens Voices of Counterculture in the Southwest (May 14), an exhibit of photos, footage, and artifacts that reexamine the attraction that New Mexico held in the 1960s and '70s (through February), co-curated by La Fonda's Harvey friend, Meredith Davidson along with Jack Loeffler.
Come back to the museum for Father's Day, when you can turn an old cigar box into a gift for Dad (June 18) in a family workshop. Upcoming workshops at the Georgia O'Keeffe Museum include an exploration of her sense of style (May 3) and her ideas on cooking (May 12).
Speakers
The Lensic hosts a couple of programs from the Lannan Foundation: Indian author and activist Arundhati Roy with documentarian Anthony Arnove (May 3), and novelist Marlon James with author Russell Banks (May 10). Pulitzer Prize–winning poet Gary Snyder will share his perspective on the counterculture in a presentation for Lensic members only (May 14), which will surely entice some to join. Also, Peter Altmann will discuss his family's history with the Gustav Klimt painting Woman in Gold, which his mother fought to recover from the Austrian government after its theft during World War II (June 8). The Hollywood version of the tale will be screened, and VIP tickets include a pre-event reception with Altmann.
| | |
| --- | --- |
| Gary Snyder | Woman In Gold |
La Fonda and Santa Fe In the News